Another opportunity for Nepal, won only 2 out of 22 games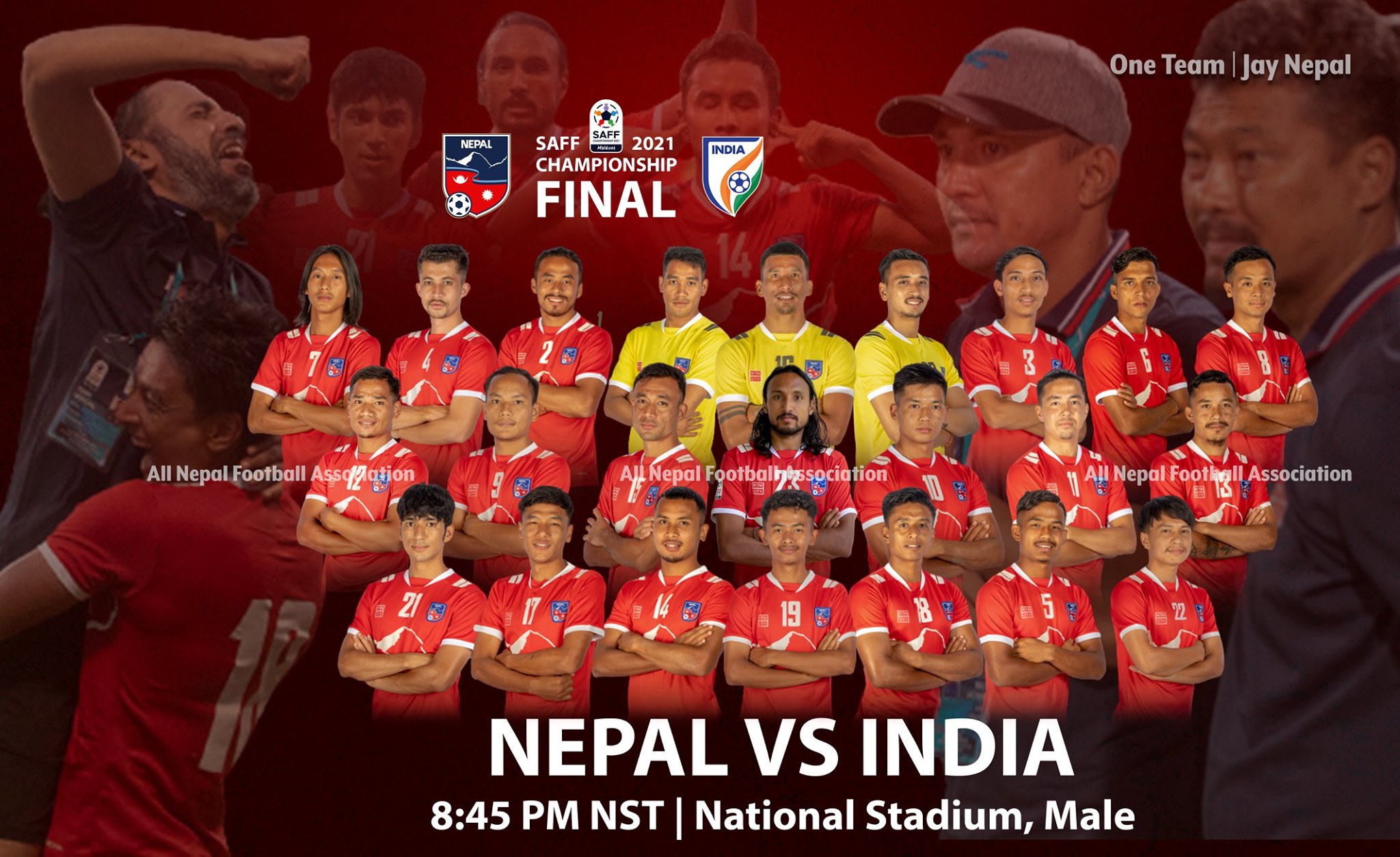 KATHMANDU: OCT. 16 – Nepal is playing against India on Saturday night for the title of SAFF Championship. India, the most successful (seven-time champions) of the SAFF Championship, and Nepal, who reached the final for the first time, are set to play for the title.
Earlier, India had defeated Nepal 1-0 in the league stage. After winning the first two matches of the league, Nepal lost to India and drew with Bangladesh to reach the final. Similarly, India, which drew with Sri Lanka and Bangladesh, reached the last two by defeating Nepal and Maldives.
If Nepal, which has made history by reaching the final, wants to make itself the champion of South Asia by winning the title, then India, which has always been the powerhouse of this region, will be in the mood to become the champion once again.
Not long ago, Nepal played two friendly matches with India in Kathmandu. In which one game ended in a draw and the other game was won by India.
That victory of 2013
Nepal had entered the semi-finals of the SAFF Championship held in Nepal in 2013 by defeating India. This was the first victory of Nepal over India in the SAFF Championship and the second overall victory.
Before that, in 1993, Nepal had won the second gold medal in the green by defeating India in a tie-breaker. In the eight years since then, Nepal has not been able to repeat that history.
Therefore, this time after 8 years, Nepal has got an opportunity to defeat India. If they win today, Nepal will not only defeat India after 8 years but will lift the title of SAFF Championship for the first time.
Competed 22 times, only 2 wins
Nepal and India have competed 22 times so far. Most of these games have been played in South Asian competitions. Nepal and India have competed in the championship eight times before.
Apart from that, they has competed in the South Asian Games (SAG) seven times in five international friendly matches and twice in the World Cup qualifiers and once in the Asian Games.