Saki Mana Punhi: Unique Festival celebrated by building a grain temple (Video)
Saki Mana Punhi is another Newari term. 'Saki' is pindalu, 'Mana' is usinne, and 'punhi' is full moon.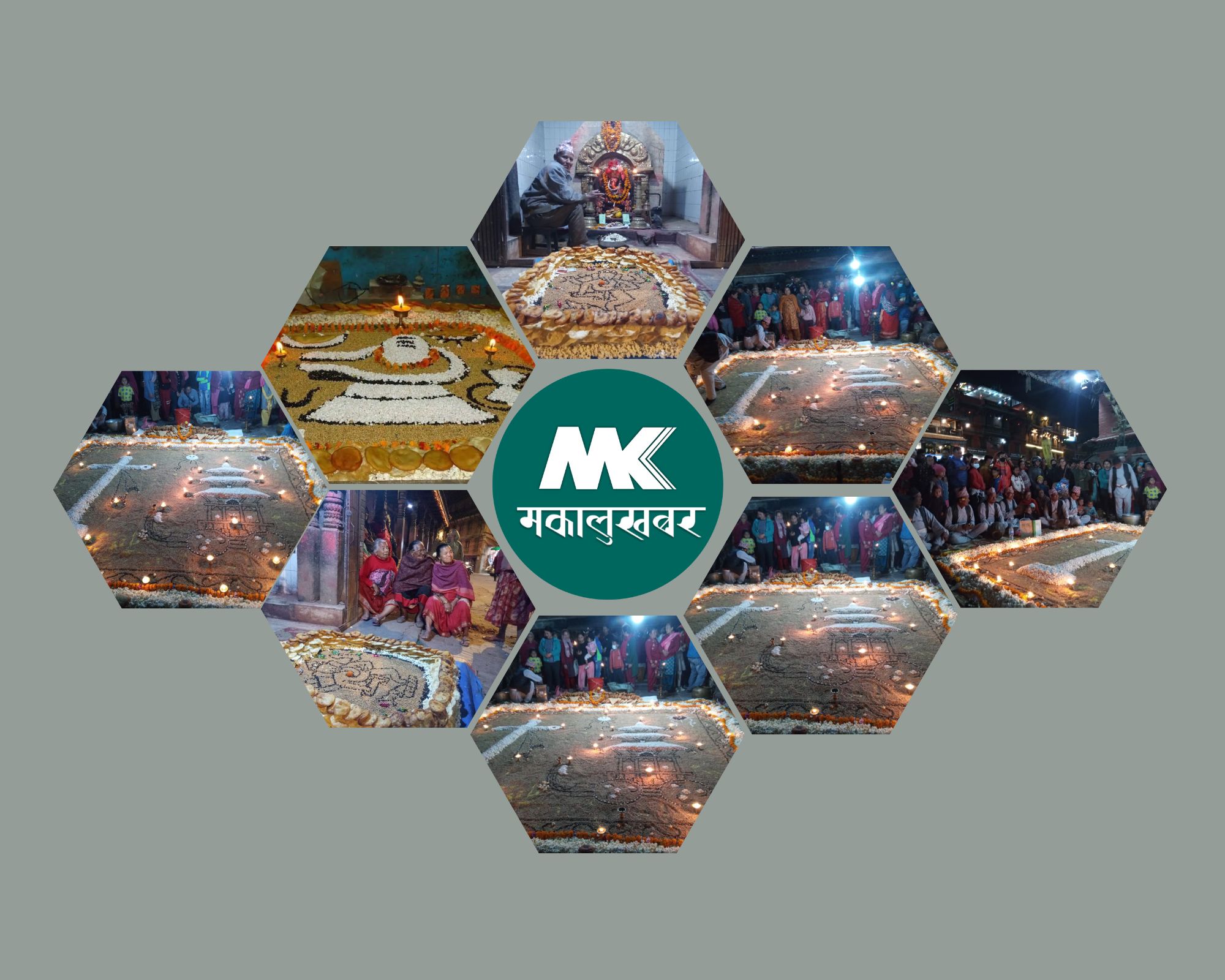 KATHMANDU: On Kartik Shukla Purnima, devotees of Purnima celebrated Harimandit and Saki Mana Punhi, an agricultural cultural festival, by drawing pictures of grains such as rice, wheat, and corn in front of various temples.
Saki Mana Punhi is another Newari term. 'Saki' is pindalu, 'Mana' is usinne, and 'punhi' is full moon. As Pindalu (Co-co Yam) and Sakharkhanda (sweet potato) are eaten on this day, it is known as Saki Mana Punhi.
On Saki Mana Punhi, a Newar special festival, grain images are made in front of temples throughout the valley, including Bhaktapur. The photographs are taken directly in front of the temple, according to Mahesh Prakash Hada, a resident of Bhaktapur. There are images of temples, God, and his arms.
'We have hymn communities like Dafa and Dalcha,' he says. There is also guthi in that community. They control everything and are honored by creating various pictures and figures. Along with it, a hymn is sung.' Corn, soybeans, paddy, wheat, and barley are used to draw temples and vahanas (god's vehicles). It is decorated by the lighting of various flowers and lamps. The festival takes place in the evening.
After dusk, believers from every household perform puja by bringing worship items and other grains such as corn and wheat, and they also bring some grains home as prasad. Separate figures of grains were seen in front of various temples in Bhaktapur. A picture of Bhairavnath's linga and the Panchatale temple was drawn there as the linga was raised in the Taumari (Panchtale) temple.
Similarly, an elephant was painted in front of the Bhaktapur palace square in the Indrayani temple. According to Mahesh, the elephant picture was created by Indrayani Guthi.
Importance of Saki Mana Punhi
Saki Mana Punhi is a rare festival that is still alive and well in our society. The festival is widely regarded as a festival of respect and thanksgiving. All of the farmers humbly offered their harvest to Mother Earth and expressed gratitude for her care.
Furthermore, Bhajan groups from various locations gather on the same day to visit the nearest but largest temple of Narayan. For Bhaktapurians, the closest and largest Narayan temple is Changu Narayan, where grand Shrigarud worship is performed on the same day.
People also pay attendance to different Bauddha stupas and shrines like Swyambhunath, on Saki Mana Punhi.
As per Bajrayan Buddhism of the valley, the Tathagata Buddha, who once was mediating on the Nagarjuna mountain get up from meditation on the same day and sowed the lotus seeds in the valley, when the valley was just a lake.
Photos:-
-Tenzing Dolma Tamang/MK