Data Pack
This festival Ncell launches innovative 'Home and Away Data Pack
The offer has come into effect on Thursday (Sept 29).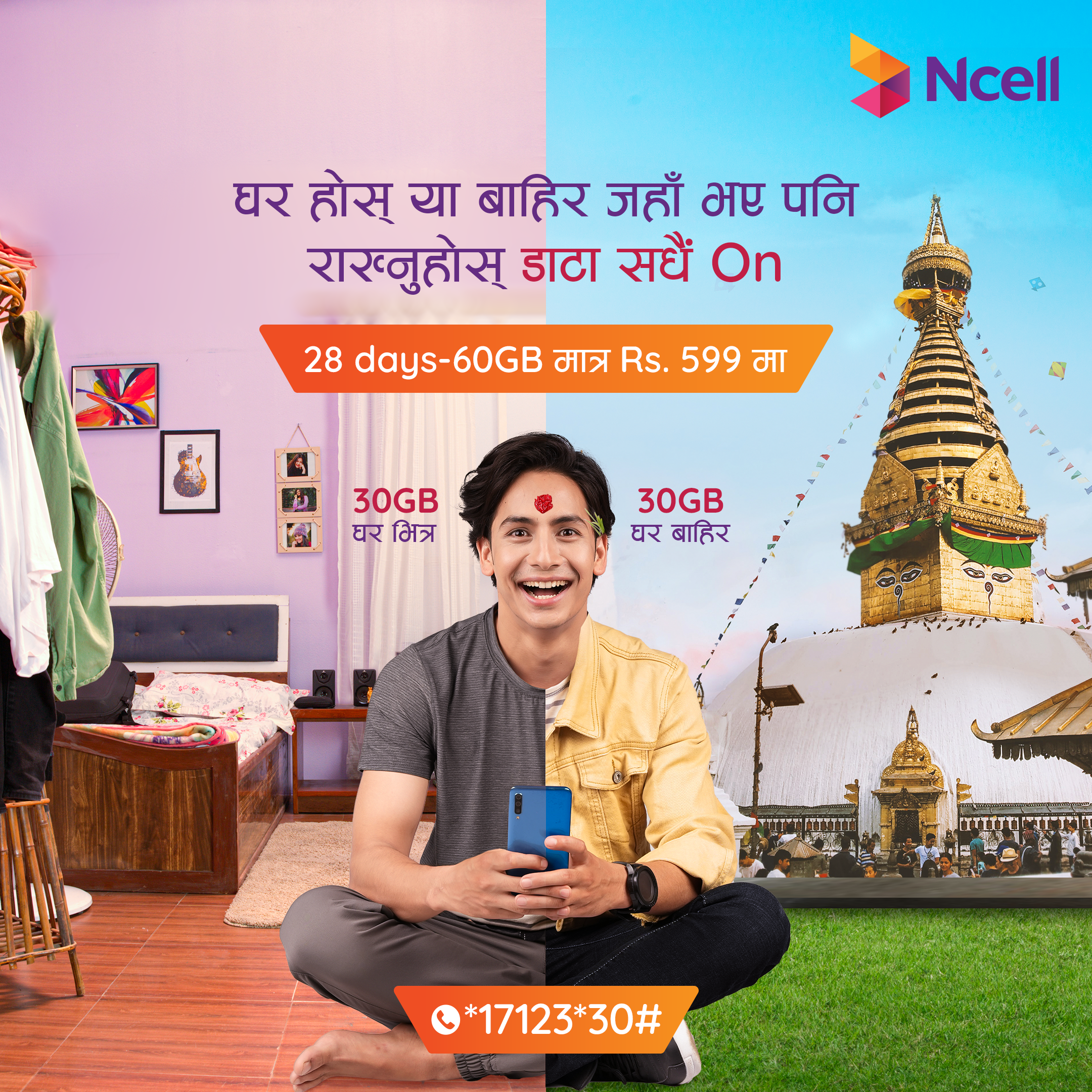 KATHMANDU: This holiday season, all Ncell customers can take advantage of an exciting data offer called 'Home and Away Data Pack,' which is the first of its kind and is specifically designed to provide data service at a lower cost for home use as well as at any location across the country while on the go.
On the occasion of Dashain, Tihar, and Chhath, Ncell Axiata Limited has launched this appealing festive offer, allowing customers to exchange festive greetings, share excitement, and stay connected with family and friends. Customers receive a total of 60GB in this offer, a bundle of 30GB Home Data + 30GB Away Data, for just Rs. 599 including taxes.
The offer has come into effect on Thursday (Sept 29). Customers can sign up for the pack by dialing *17123*30#. They can also purchase this pack through the Ncell App or the Ncell website.
Out of the 60GB data volume, 30GB is for use at home, while the remaining 30GB is for use anywhere in the United States. To use the data under this pack, the location where customers activate the pack is considered a home location, and the remaining locations are considered away locations.
Customers will also be able to relocate their home location based on their needs if they want to change their home location and use dedicated data volume at the home location. Once activated, this pack is valid for 28 days.
What distinguishes this offer is that once the specified data volume is consumed, no pay-as-you-go (PAYG) rate will apply until the validity of the pack expires. If the data volume of the Home and Away Data Pack runs out, customers can purchase any data pack.
Ncell is excited to bring this innovative and appealing pack to customers, making data service more affordable.
Customers can use the pack to stay connected at any time and from any location, exchange festive greetings, and share memorable moments while celebrating the joyous festivities with family and friends.