Highway chaotic in Morang Congress election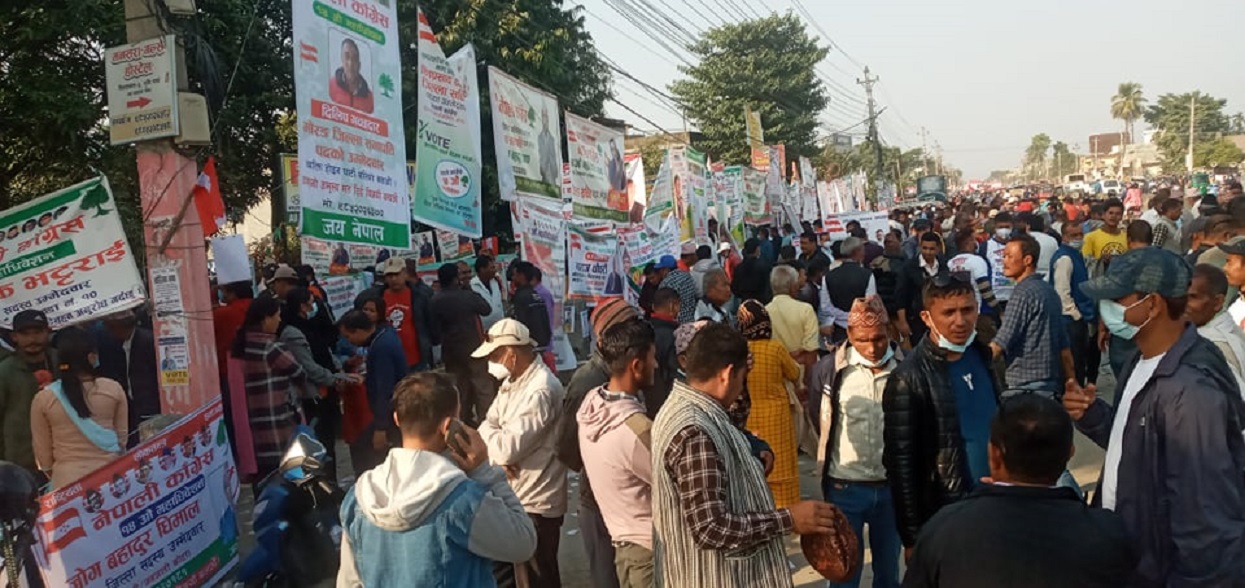 BIRATNAGAR: NOV. 28 – The Nepali Congress had an election program to select the district leadership of Morang. As the election program started at 10 am, a crowd of leaders/activists had already gathered. Leaders and activists had already reached the venue as the election program was being organized at Manaslu Hotel on the north side from Baragachhi, the main chowk of Biratnagar.
The election was held on a vacant plot of land adjacent to Manaslu Hotel due to its large place. The problem was due to heavy traffic in the area, which is connected to the Koshi Highway. This area of ​​Biratnagar looked very chaotic because of the election program and the leaders and their voters.
As the election program lasted from 10 am to evening, a part of the 6-lane road one part had to be closed completely.
Acting Chief Deputy Inspector of the District Traffic Police Office, Morang, Shiva Sharma said that the situation was tense from 7 am to 7 pm. He said that there would be no problem in traffic management if the election program was organized elsewhere except that place but there was a problem as it was connected to the highway.
He said that even though the traffic police had a lot of problems, no accident was reported. "The vehicle was running under pressure," he said.
The same person had to manage the traffic continuously from 7 am to 7 pm. Thirty-five traffic policemen from different units of the district were deployed in road traffic management to facilitate the election program of the Nepali Congress.
According to the traffic police, the Nepali Congress has not mobilized any volunteers for the management of road accidents and parking and there has been no coordination for the parking lot.
The Nepali Congress, on the other hand, said that the place was chosen because of its large place.
Nepali Congress Morang election process is over. 3,585 voters had cast their votes for the district leadership. Gopal Bahadur Thapa, Subodh Kumar Singh, Arjun Niraula, Shiva Prasad Dhakal, Ashok Rijal and Subash Bhandari are in the fray for the post.
From Koirala-Poudel's faction, Dik Bahadur Limbu is the district president, Nagesh Koirala, Bhaktinath Majhi, Modraj Ghimire and Lalit Kumar Shrestha are the secretaries and Bhuwaneswar Mandal is the joint secretary. Leader Krishna Sitaula is on the panel led by Yadu Bista.