Canal of Jhyapre rivulet irrigation project constructed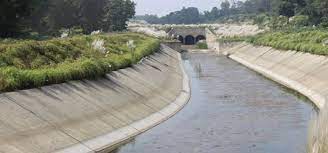 MYAGDI: JUNE 7 – A 710-meter long canal of the Jhyapre Rivulet Lower Bhaiteni Irrigation Project of Mangala Rural Municipality-3, Bamraja in Myagdi has been constructed.
The Drinking Water, Irrigation and Water Resource Division Office Myagdi had started the project construction since last year. Jhyaprekhola Irrigation Project users' committee chair Nandalal Kandel informed that the 710-meter-long cemented canal was constructed in the period of two years.
As informed the canal was constructed with the financial grant of Rs 1,445,000 from the division office and Rs people's in-kind contributions worth amounting to Rs 153,000. Likewise, 11 gabion walls were also built for the protection of water sources. -RSS