Physically challenged Saroj Sardar struggles hard to frequent school [Photos]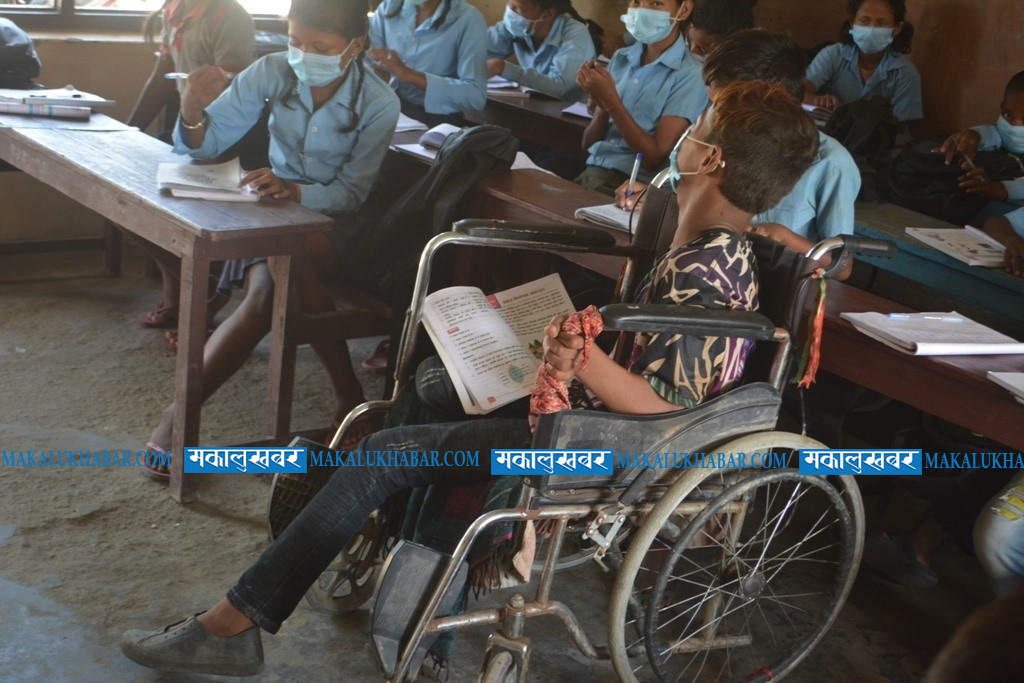 BIRATNAGAR: SEPT. 24 – Saroj Sardar of Rajkumari Tole, a Village Municipality-2 of Morang, turned 14 years old. He is currently studying at Ravi Basic School in Gramthan Rural Municipality Ward No. 2. He is congenitally disabled. In Saroj's family, where the economic situation is weak, everyone earns a living. He was born with a disability and could not walk.
His family says he has a good ability to understand and think. He said that although he could understand everything taught by the teachers, he could not write it. His brother used to bring him to school in a wheelchair from home as he could not even speak well. Seeing that everyone had gone to school since childhood, he also liked to go to school. The school has informed that the wheelchair has been arranged in various organizations after seeing that he had injuries on his leg when he came to the school.
Saroj cannot eat even himself and has to be fed by others. At present, Saroj's brother (cousin's son) Abhay Sardar has been doing all the work of bringing the toilet from home to school and from home to school.
Saroj learns by knowing what Abhay has read and written. Jitendra Sardar, the principal of the school, said that Saroj has the ability to pick up what he has been taught more easily than other students.
Even though other students do not come to school regularly, he always comes to school. As he cannot write, the school has taken him to every examination. Saroj is a student with a very difficult disability. The school principal says that his brother brings him from home to school. He has been taught that other friends should help him when he comes to school. At present, around 500 students are studying in this school which is attended only by children of the Dalit (lowest caste) community.
PHOTOS:-