'Ramailo' App
'Ramailo' App: Possible Nepali app alternative to TikTok
The company expressed joy in releasing the 'Ramailo' app as a homegrown Nepali product.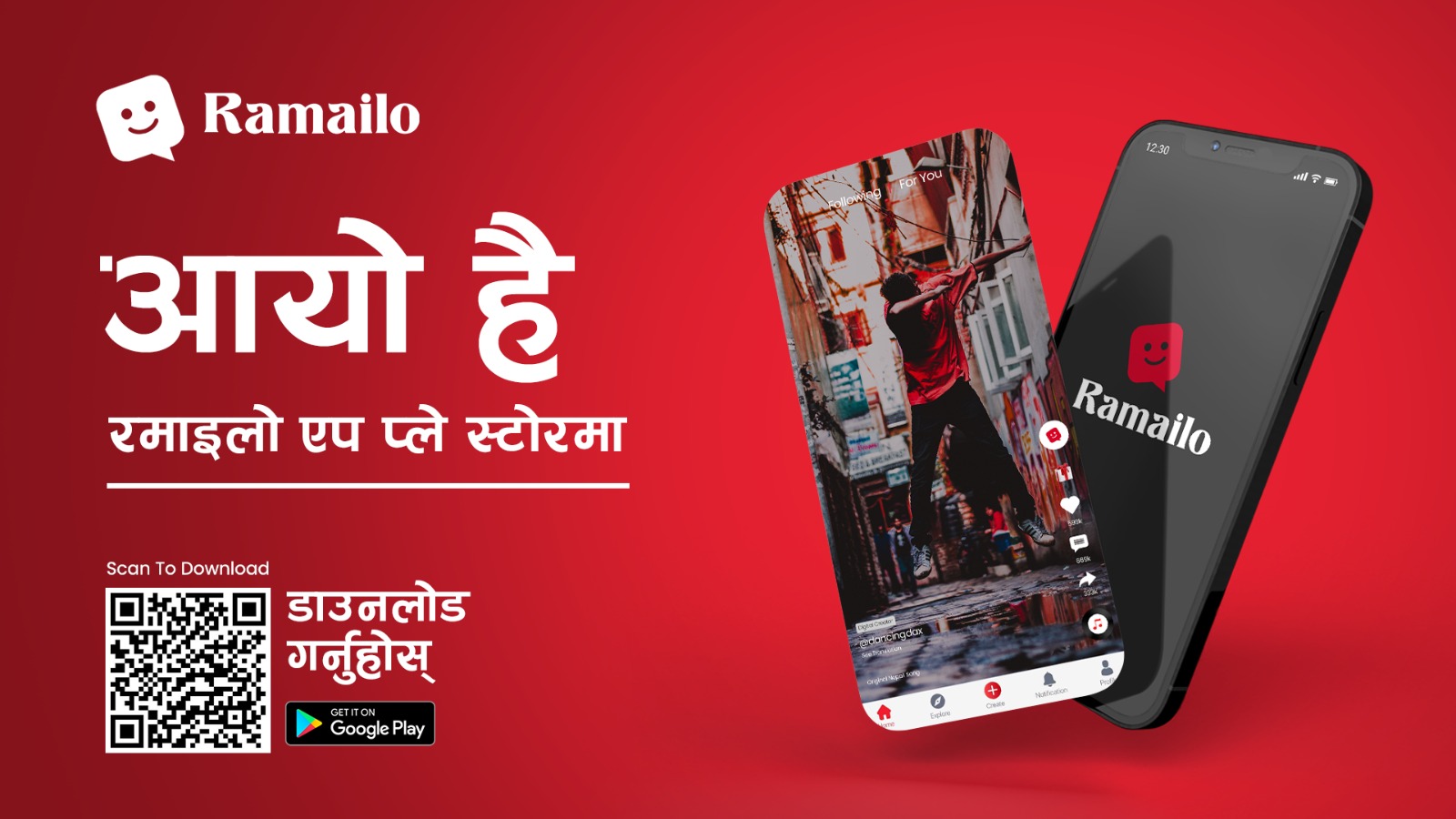 KATHMANDU: A group of Nepali youths has developed and launched a mobile app for short videos.
Based on the increasing popularity of short reels among the younger generation, Idea Jar Company introduced the app named 'Ramailo.'
The company expressed joy in releasing the 'Ramailo' app as a homegrown Nepali product. With the rise of short video platforms on social networks, foreign apps were previously the only option for Nepali users.
However, now a Nepali mobile app is available for users, and the company hopes for the positive reception from the Nepali audience.
At a time when the government faces challenges in regulating social networks like TikTok and Facebook, the company asserted that a Nepali-developed app would be easier to regulate. The 'Ramailo' app offers features such as watching and uploading videos, exploring content, liking, commenting, sharing, and live streaming. The company also plans to remunerate content creators based on the content's quality and popularity.
The 'Ramailo' app is accessible to citizens above the age of 13, and the company claims it addresses issues present in other social media platforms.
The company has established 'community guidelines' for users, and any content contrary to these guidelines will be reviewed and appropriate action will be taken.
Similarly, the app also aims to assist the government in bringing disorderly or illegal activities during video production within legal boundaries. The company stated that reported videos will undergo investigation, and if necessary, content removal and account suspension will be implemented.
Following the recent ban on TikTok in Nepal, the 'Ramailo' app could potentially become a preferred platform for Nepali users. Success for this locally developed app could reduce the outflow of Nepali money from advertisements to other countries and enhance the protection of Nepali users' data, according to the company.
Idea Jar Digital, an IT company operating in Nepal since 2019, has made the app available on the Google Play Store, with an upcoming release for iPhone users on the App Store.
The company encourages users to report any issues promptly, emphasizing ongoing development based on user suggestions.
A dedicated hotline for government agencies will be established later as app usage increases to facilitate regulation.
App Download Link: https://play.google.com/store/apps/details?id=com.ramailoapp.ideajar&pli=1