Chure Conservation
Chure conservation pressing need of hour
Following the construction of the East-West Highway, Mid-Hill Highway and north-south feeder ways, human settlements have increased in the Chure area.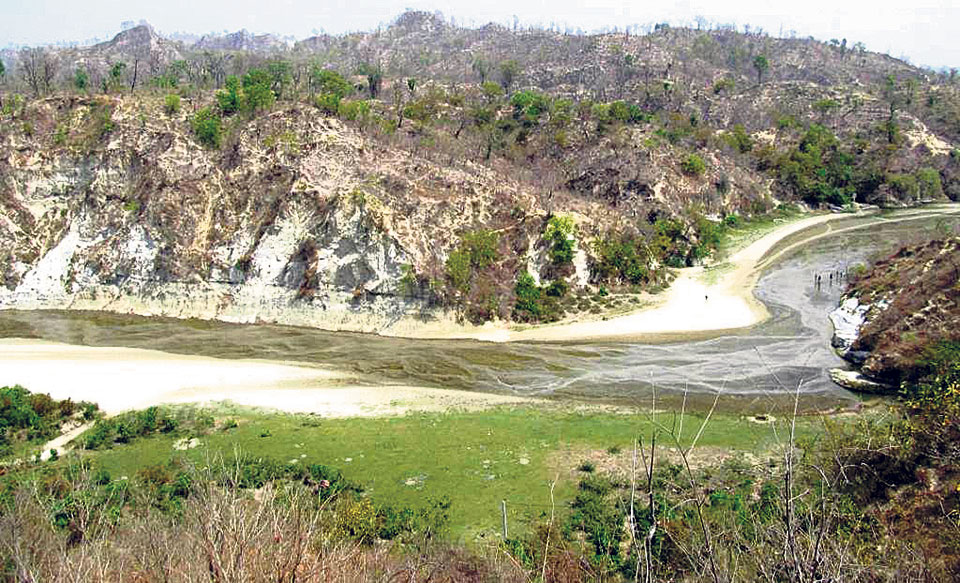 KATHMANDU: The Chure region got attention after the government took a special decision on it on June 16, 2014. This region is an area of fragile topography, valuable watershed, vulnerable to earthquake, and biologically diverse. It is also a biological trail.
Currently, this region covers 37 districts with a split of Nawalparasi. Similarly, it has a settlement of 5 million population.
Considering weak and vulnerable geography in terms of watershed and river system, the region covering 12.78 percent of the country's land, has been declared an 'Environment Protection Area' as per Clause 10 (1) of Environment Protection Act, 2053.
Following the construction of the East-West Highway, Mid-Hill Highway and north-south feeder ways, human settlements have increased in the Chure area. Several studies have shown that those settling in this region with agriculture and raising houses have not land ownership certificates. Deforestation, overgrazing, wildfire, and excavation of sand and pebbles from this region has badly affected the ecosystem here.
Similarly, desertification has been fueled here due to sediments deposited in the arable lands in the rainy season. The rivers and streams flowing in the Chure region have further cut the land, causing inundation.
The Jagdishpur Lake, the largest manmade lake in Nepal which is listed in RAMSAR Treaty, has spread on 225 hectares of land in Kapilvastu. The source of this lake is the Banganga River and the watershed in the vicinity in the Chure area.
Similarly, Bishajari Lake located in the buffer state of Chitwan National Park, and Ghodaghodi Lake of Kailali are also in this region.
Jakhira Lake of Dang, and Rajrani Lake of Morang also have a source in the Chure region. Chure Hill is the origin of more than 35 big lakes in different districts in the southern belt. Similarly, there are more than 120 ponds, to which the source is Chure Hill.
The lakes and streams are sources of irrigation, drinking water, and habitat to aquatic animals and birds. Tens of thousands of hectare land is irrigated by these lakes and ponds where domestic and migratory birds find it a salubrious habitat. These lakes and ponds have a significant role to recharge groundwater in Tarai and inner Madhes. So, excavation of soil, stone, pebbles and sand bears long-term effects on its ecosystem.
Chure region with various lakes and ponds is the source of water to tigers, elephants, crocodiles and other animals in Chitwan National Park, Parsa National Park, Bardiya National Park and Shuklaphanta National Park. It is rich in biological diversity. Significant animals as tigers, elephants and rhinoceros have their habitat in Chure and inner Madhesh.
Moreover, the Chure region is the only source of water to the people settling in 136 local levels of Tarai districts. The fish ponds at Hetauda get water from Chure. The Women Groups of Hetauda Sub-Metropolitan City have conducted commercial fishery along Thado Khola by setting up more than 50 small ponds. It is exemplary indeed. In addition to that numerous irrigation projects are run in Dhanusha, Siraha, Chitwan, Makwanpur, Chitwan, Rautahaat, Bardiya, and Banke districts, for which Chure has the watershed.
From east to west, major cities and bazaars of Terai districts depend on the Chure region for drinking water and irrigation.
This region is indeed a lifeline to 61 percent people of the country- those living in Chure and Tarai as well. With fragile topography, the soil soaks the rainwater. Some may think Chure Hill is only a mass of stone, pebbles, soil and forest, but it is a lifesaver to the people living in Chure and inner Madhesh.
It is worrying that with a rising temperature of 42 degrees centigrade, the tube wells in Terai districts dried up in April and May. News stories on it were carried in different media.
Equally upsetting is the random excavation of pebbles, sand and stones by the crusher industries. Although the local levels make contracts for these, there is no proper monitoring. It has resulted in environmental degradation. If these natural sources are allowed for export in the name of income, this region will face grave crises.
Blatant exploitation of the Chure region has disrupted the underground water flow. The pits are dug as deep as 30 feet, which has evidently disturbed the underground water table existing for a long. It has finally caused drying up of tube wells in Terai and inner Terai.
As many as 61 percent of people in the country are pushed to the receiving end when decisions are made for the interests of select industrialists and businesspeople.
Efforts are made frequently to deplete this watershed. When then finance minister Bishnu Paudel had announced through the budget of fiscal year, 2078/79 to export pebbles, sand and stones, the ruling party leaders themselves had decried it terming it as 'selling ash by burning own house'.
A similar announcement is made in point no 42 of policies and programmes and point no 157 of the budget brought for the fiscal year, 2080/81. It is worth reminding that the Supreme Court had issued an order to export pebbles, sand and stones by making a law from the parliament because these resources are inter-generational property.
The logic of Bhutan and Australia exporting pebbles and stones does not suit Nepal's context. There is a Shiwalik Hill ranging from the Indus River of Pakistan to the Brahmaputra River, India, where even a tree leaf cannot be plucked, think not the excavation of stone!
However, stones, pebbles and sand swept away from Chure Hill and deposited in different parts of Tarai can be utilized for development works of our own country. The local levels can use the deposits to earn money by strictly adhering to the Environment Protection Act and Regulation.
Similarly, instead of involving in the export of stone, pebbles and sand from the Chure region, the people here can be encouraged for commercial farming of medicinal herbs, bamboo plantation and others as employment and income generation. Similarly, additional ponds can be created for the fishery with the collection of rainwater. Eco-tourism is another option for employment and income. The institutional conservation of the Chure region with the formulation of the Chure Conservation Act is a pressing need of the hour.
(Writer is an expert on the Chure region)
-Dr Bijay Kumar Singh/RSS