Announcement of Winners
Realme announces winners of 'Utsav ko Bahar, Harek Din Upahar' campaign
Winners took home 65" Television and Washing Machine and Realme 9 4G (8/128).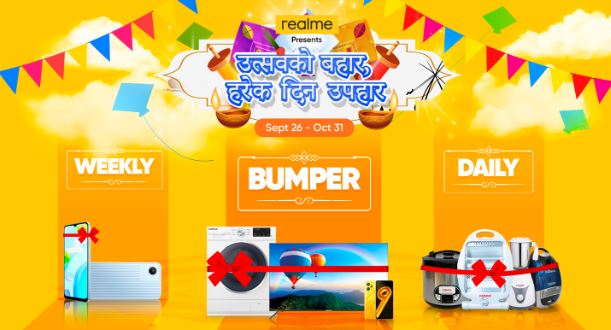 KATHMANDU: The winners of the 'Utsav ko Bahar, Harek Din Upahar' campaign have been announced by Realme, the most trusted technology brand. Sandhya Singh Thakuri of Butwal (retail name Gaura Kalika mobile) won the Konka 65″ 4K TV, while Purna Bahadur Malla of Baglung (retail name Alisha Mobile center) won the Konka 7kg Washing Machine as the grand prize.
Likewise, Sujan Basnet, Samakhusi (retail name Lamjung Electronics) took home Realme 9 4G (8/128)as a bumper prize winner.
The offer started from Sept 26 to Oct 31 at 00:00 hrs on realmecampaigns.com. During the festive days, realme had offered its buyers various gifts including smartphones, a TV, and a washing machine. During the offer, customers also got a chance to win a Konka mixer, heater, vacuum cleaner, rice cooker as daily prizes and Realme C30 (232GB) as weekly prizes.
Mr. Munish Giri, Country Head, Realme Nepal, congratulated the winners, saying, "I would like to congratulate all the bumper prize winners as well as weekly and daily winners." Realme has always been at the forefront of technology and innovation, which our customers appreciate. I am grateful to all of our customers who have shown us their loyalty and trust in the brand."
Realme had brought some of the most exciting offers during the festive season, to add sprinkles on top of the extreme value-for-money smartphones they already have on offer. Customers were required to register their newly purchased smartphone in realmecampaigns.com by providing details such as IMEI number, phone number, smartphone model, and customer name in order to participate in the campaign.