In open central member Popular candidates are ahead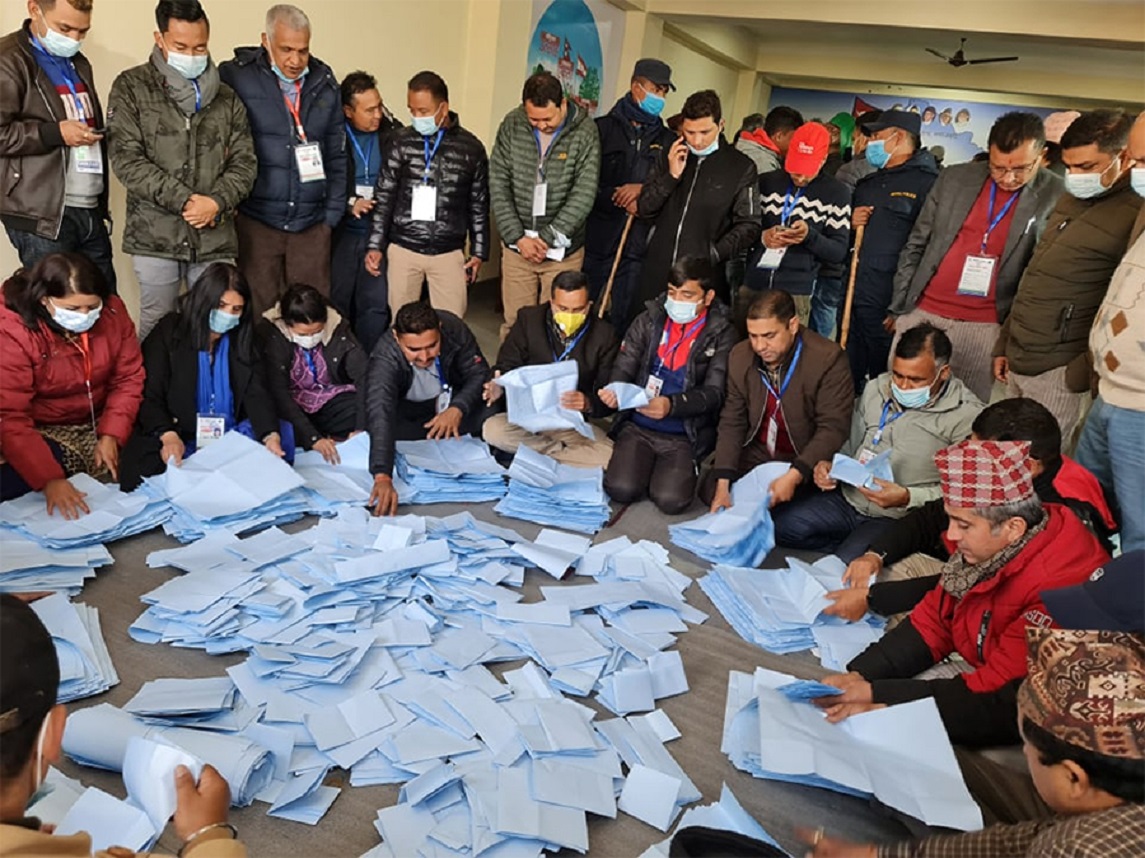 KATHMANDU: DEC. 19 – As of last night, 2,393 votes have been counted for the open member of the Nepali Congress. According to the results so far, the most popular candidates are in the lead.
According to the Congress Central Election Committee, when half the votes were counted, Dr. Shashank Koirala is in the lead. He received 1971 votes. Dr. Koirala is being followed by NP Saud. He has 1538 votes.
Similarly, in third place Bal Krishna Khand has 1507 votes, fourth place Ramesh Lekhak has 1451 votes and fifth place Uday Shamsher Rana has 1451 votes. There will be 35 open central members elected in Congress. For which 99 people are competing. So far, only popular candidates have been seen in the forefront.
The Election Committee, which postponed the counting of votes after 11:30 pm last night, has stated that the counting will start again from 9 am this morning.
The 45 most voted candidates:
1) Dr. Shashank Koirala – 1971
2) NP Saud – 1538
3) Bal Krishna Khand – 1507
4) Ramesh Lekhak – 1451
5) Uday Shamsher Rana – 1445
6) Shankar Bhandari – 1437
7) Gyanendra Bahadur Karki – 1423
8) Ramhari Khatiwada – 1395
9) Arjun Narasingha K.C. – 1383
10) Gopal Man Shrestha – 1323
11) Jeep Tshering Lama  – 1312
12) Jit Jung Basnet – 1283
13) Nain Singh Mahar – 1283
14) Dr. Ramsharan Mahat – 1281
15) Govinda Bhattarai – 1277
16) Sunil Bahadur Thapa – 1246
17) Bal Bahadur KC – 1233
18) Dilendra Prasad Badu – 1231
19) Mohan Bahadur Basnet – 1202
20) Deepak Giri -1 174
21) Surendra Raj Pandey – 1151
22) Kundan Raj Kafle – 1143
23) Padma Narayan Chaudhary – 1137
24) Guru Baral – 1036
25) Sanjay Kumar Gautam – 1001
26) Govind Raj Pokhrel – 962
27) Gopal Dahit – 931
28) Rajiv Dhungana – 935
29) Krishna Kishor Ghimire – 929
30) Dinesh Koirala – 925
31) Birendra Kumar Kanodia – 919
32) Mohan Acharya – 913
33) Ajay Babu Shiwakoti – 909
34) Madan Bahadur Amatya – 908
35) Umesh Jung Rayamajhi – 891
36) Ganesh Lama – 888
37) Mangal Prasad Tharu – 871
38) Manojmani Acharya – 854
39) Kedar Karki – 819
40) Yagya Bahadur Thapa – 800
41) Shambhulal Shrestha – 791
42) Hari Prasad Nepal – 787
43) Tirtharaj Mines – 780
44) Gangadhar Tiwari – 762
45) Janakraj Giri – 744