Vaccination
Cancer vaccination campaign to run through Sept 22
The government has set a goal of vaccination 9,999 girls with the HPV vaccine against cervical cancer.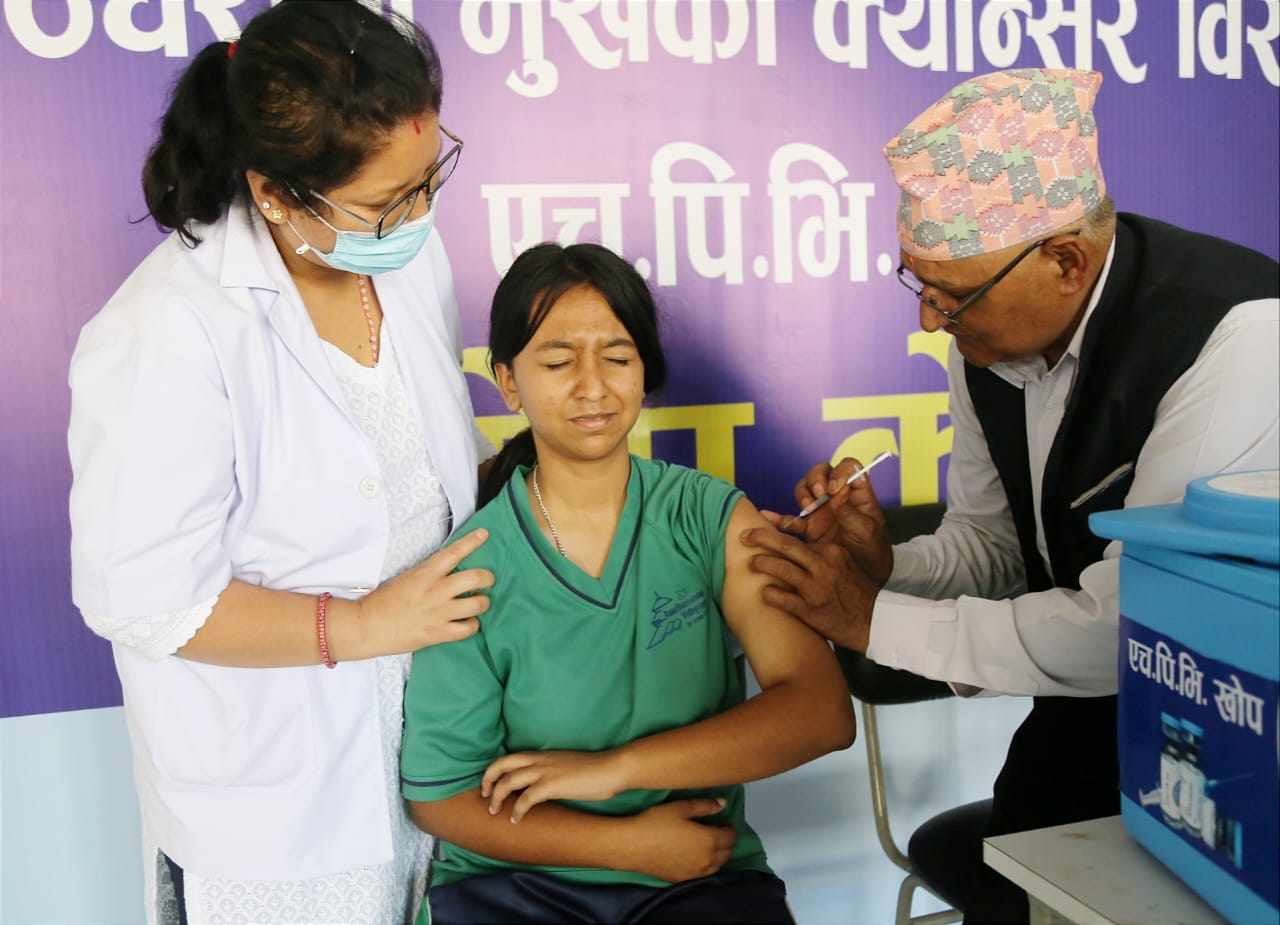 KATHMANDU: The HPV vaccination campaign for adolescent girls against cervical cancer has been extended.
According to Dr. Abhiyaan Gautam, Head of Child Health and immunization Branch of the Department of Health Services, the immunization campaign would extend through Ashoj 5 (Sept 22). "The time has been extended because the targeted girls have yet to be vaccinated," he said.
He claimed that due to school closures on Bhadra 29 (Sept 15) Children's Day, Bhadra 30 (Sept 16) Saturday, and Ashoj 1 (Sept 18) Sunday Haritalika Teej, the number of females who came for vaccination was low. He states that 40% of the target girls have received vaccinations.
The government has set a goal of vaccination 9,999 girls with the HPV vaccine against cervical cancer. On Bhadra 27 (Sept 13), HPV vaccination was performed as a 'demonstration' in all seven hospitals in seven regions to protect young girls aged 14 to 15 from cervical cancer.
The Ministry has directed that all teenage girls be taken to an immunization center for vaccination. The vaccine will be given to girls born between Bhadra 30, 2065 (15 Sept, 2008) and Bhadra 20, 2066 (5 Sept, 2009).
The immunization was administered to safeguard women from cervical cancer, according to Dr. Gautam, the branch's chair.
The government has made HPV vaccine available at Koshi Hospital in Koshi State, Narayani Hospital in Birgunj in Madhesh State, Parokar Obstetrics and Gynecology Hospital in Bagmati State, Gandaki Institute of Health Sciences in Gandaki State, Bheri Hospital in Banke in Lumbini State, Regional Hospital in Surkhet in Karnali State and Dadeldhura Hospital in Sudurpaschim State.
The first dosage of the vaccination will be administered, followed by the second dose six months later. The HPV vaccine is reported to provide 95% protection against cervical cancer after two doses.
Previously, in 2016-17, the government used Chitwan and Kaski as a test site for cervical cancer vaccine. Cervical cancer is thought to be caused by risky sex, smoking, and marrying at a young age.