Anniversary
Japan marks 77th anniversary of atomic bombing of Nagasaki amid calls to change "victim mentality"
The annual ceremony on Tuesday allowed for more people to attend, owing to the easing of COVID-19 restrictions.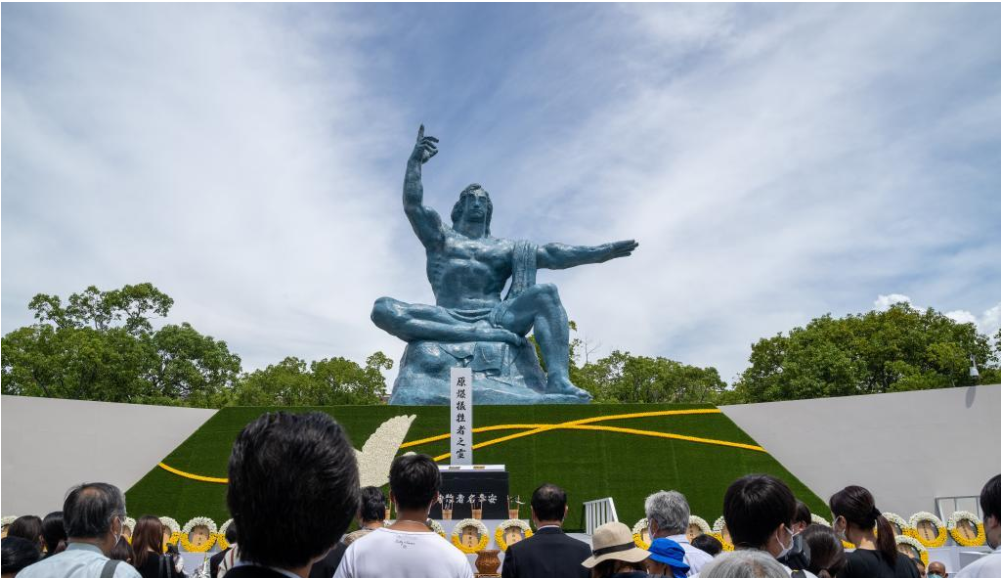 TOKYO: Japan's Nagasaki City commemorated the 77th anniversary of the U.S. atomic bombing on Tuesday with the international community urging Japan to see itself not as merely a victim.
The annual ceremony on Tuesday allowed for more people to attend, owing to the easing of COVID-19 restrictions.
Officials and dignitaries from more than 80 nations and regions were represented at the ceremony, along with atomic bomb survivors, relatives of the victims and a notable number of school-aged children. Many had gathered from early in the morning to offer prayers to the lives lost.
At 11:02 a.m. local time, a moment's silence was observed by those attending the ceremony as this was the time when a U.S. B-29 bomber dropped a plutonium-core atomic bomb, nicknamed Fat Man, on Aug. 9, 1945, killing around 74,000 people in Nagasaki by the end of that year.
White doves, a globally-recognized symbol of peace, released to fly over the Peace Statue during the ceremony, provided attendees, including diplomats from nuclear states, with a chance to contemplate the magnitude of the event 77 years ago.
Some bowed in solemn thought, others opted to capture the moment on camera phones.
Bells rang out as the doves flew, underscoring the solemnity of the moment.
A prayer ceremony with purified water was conducted to punctuate the unimaginable suffering of the victims, many of whom died, albeit not all of them immediately, from chemical burns as a result of the bombing that eviscerated Nagasaki.
Over a one-year period through the end of July, Nagasaki confirmed the deaths of 3,160 atomic bomb survivors, with its list now officially recognizing 192,310 people as victims of the atomic bombing.
The atomic bombing of Nagasaki followed the one dropped on Hiroshima on Aug. 6, the world's first nuclear bomb attack, with both bombings a means of accelerating the end of World War II and forcing Japan to surrender.
Japan, purportedly a proponent of calling for a nuclear-weapon-free world, has not joined a nuclear ban treaty that took effect in 2021, despite calls to do so from Hiroshima and Nagasaki officials, survivors of the attack, victims' families and wider society, political observers highlighted on Tuesday.
They went on to say that Japan's "Three Non-Nuclear Principles," to neither possess nor produce nuclear weapons nor permit their introduction into Japanese territory, has guided its stance on nuclear policy, since its inception as a parliamentary resolution and as outlined by then-Prime Minister Eisaku Sato in a lower house speech in 1967.
But, they said, the country hosts 50,000 American troops and is protected by the U.S. nuclear umbrella, and thus the onus of responsibility is for Japan to look backward to ensure mistakes are not repeated and trust rebuilt.
Japan brutally occupied many parts of Asia before and during World War II, causing untold suffering and death to hundreds of thousands of innocent victims.
Japanese Prime Minister Fumio Kishida's remarks on Tuesday to make Nagasaki the last place of nuclear attack is equally as much a message to Japan itself and its allies as it is to others, political watchers here said, and all political chatter about "nuclear sharing" as such, must be quashed for Japan to hope to rebuild the trust of its neighbors.
While Japan inwardly looks at the tragedies it experienced at the end of World War II, historians and political minds of the international community have encouraged Japan to evolve from its "victim mentality."
In order to achieve this, they said, Japan must come to see itself not as merely a victim of the atomic bombings but also as a perpetrator who led to these tragic incidents happening in the first place.
-Xinhua