Protest
After Sri Lanka, Bangladesh? Massive protest erupts over 52% rise in fuel prices
The 52 percent increase in fuel prices is the largest since Bangladesh's independence.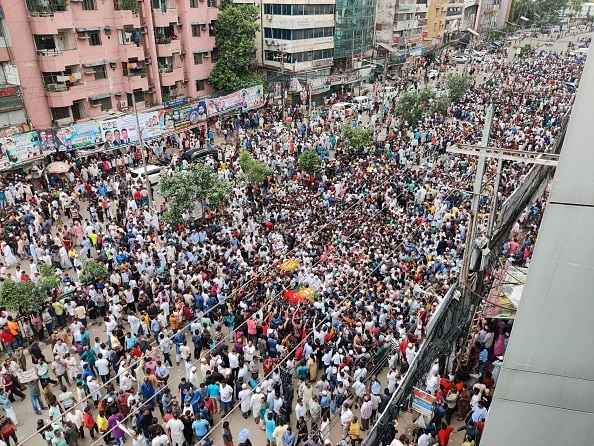 KATHMANDU: Protests erupted across Bangladesh following a sharp hike in fuel prices. According to Bangladeshi media, the jump is the "highest ever" and has boosted fuel and diesel prices by over 50%.
Bangladesh is India's second neighbour to be struck by similar protests, after the island nation of Sri Lanka. Angry protesters encircled gas stations around Bangladesh, demanding that the sudden price hike be overturned.
The Sheikh Hasina administration announced the rise on Friday, following which diesel prices increased by 34 Taka per litre, octane prices increased by 46 Taka per litre, and petrol prices increased by 44 Taka per litre.
According to several Bangladeshi media agencies, the 52 percent increase in fuel prices is the largest since its independence.
For years, the $416 billion economy of this South Asian nation has been one of the world's most rapidly expanding economies. However, rising energy and food costs have increased the government's import bill, pushing it to seek loans from global lending institutions such as the International Monetary Fund.
Several marches were staged in opposition to the government's decision. Student unions were among those who demonstrated in front of Dhaka's National Museum.
"Common people are already in hardship to cope with the rise of living costs. Government's looting of Public property and mismanagement led people toward this suffering," one of the protesters was quoted by Dhaka Tribune in its report.
Following the government's declaration, bus operators raised their prices, which was opposed by organisations such as Bangladesh Jatri Kalyan Samity (BJKS). According to the Dhaka Tribune, they stated that the new bus rate should be determined after a "proper cost study."
The gasoline price hike was unavoidable given global market circumstances, according to Bangladesh's energy ministry, which noted that the state-run Bangladesh Petroleum Corporation (BPC) had lost more than 8 billion taka ($85 million) on oil sales in the six months until July.