Tharu National Literary Conference concluded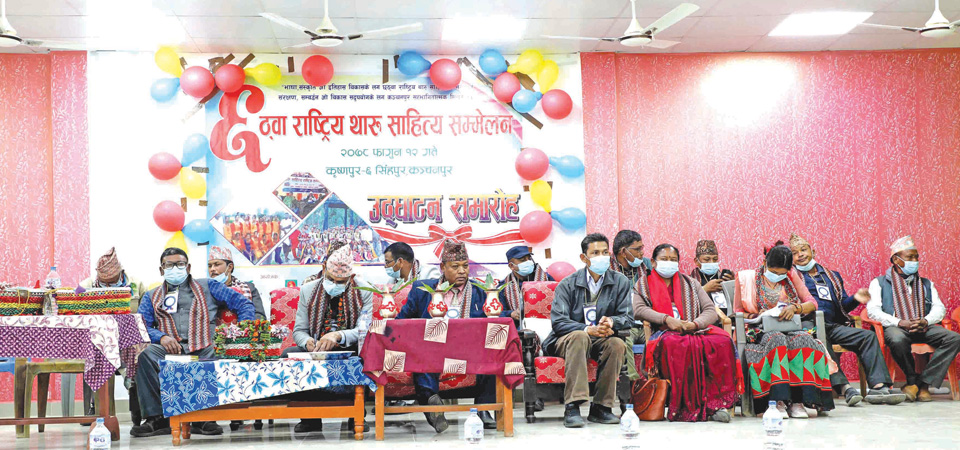 KANCHANPUR: FEB. 27 – The 6th Tharu National Literary Conference has concluded with the commitment of among Tharu Literary Associations, language lovers, writers, publishers and editors to work together for the development of Tharu language, literature and culture. The conference held at Sinhapur in Krishnapur Municipality-5 concluded with a 10-point declaration.
The declaration calls for the implementation of teaching in Tharu mother tongue with support of the Tharu-majority municipality for the teaching and learning in the school, and to take forward the preservation and promotion of Tharu folk literature and culture along with documentation. The declaration points out to launch programs to raise the issues of the Tharu community as well as to attract literary creators.
The conference, organised by the Tharu Writers' Association of Nepal, has decided to increase the fund for the honour and award of authors who have made significant contributions in the field of Tharu language and literature. For the development of the Tharu language, the decision has been taken by the conference to continue voicing, writing and publishing and to encourage creative writing.
Bir Bahadur Rajbanshi, co-coordinator of the conference organizing committee, said it was also decided to create pressure on each municipality of the Tharuhat region to allocate a budget for the preservation and development of Tharu language, literature and culture. According to him, it has been stated in the declaration that the souvenirs of the literary conference will be published.
It has also been decided to hold the upcoming 7th National Tharu Literary Conference in Banke district. The conference was organized jointly by Tharu Writers Association Nepal, Tharu Kalyankarini Sabha, Gochali Parivar, Sinhapur Youth Club. The conference was a gathering of Tharu intellectuals, writers, poets, writers, Sanskrit scholars.