Lumbini in U-19 National Cricket Final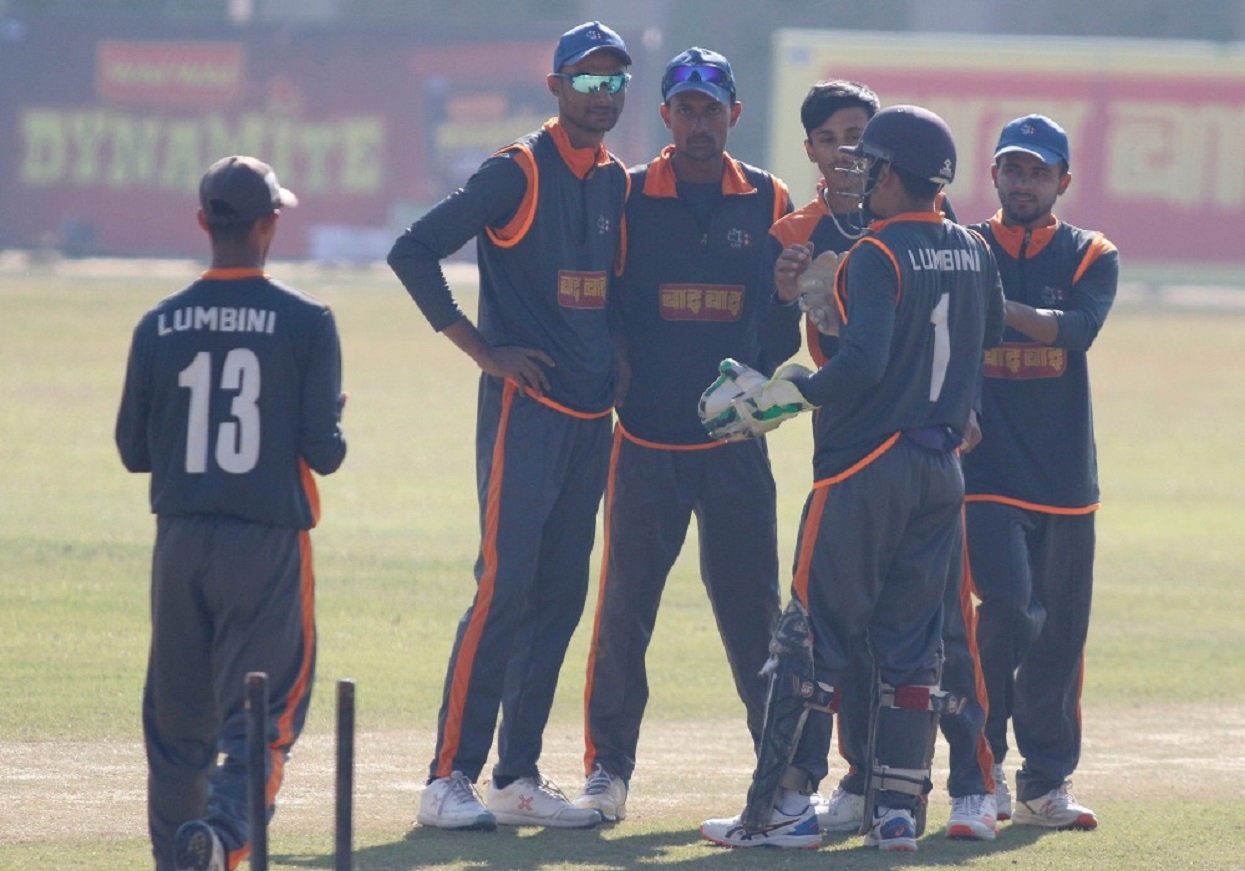 KATHMANDU: DEC. 1 – Lumbini has become the first team to reach the final of the U-19 National Cricket Tournament in Kathmandu. Lumbini became the first team to reach the final by defeating State 2 by 9 wickets in their last match of the league stage on Wednesday.
Lumbini has managed to reach the final by scoring 10 points with 5 wins from 6 games.
After losing the toss at the TU ground in Kirtipur, State 2 batted first and scored 168 runs in 39.5 overs. In reply, Lumbini completed the target by losing 1 wicket in 26.5 overs.
Opener Santosh Karki top-scored for State 2 with 82 runs while Galna Jha remained unbeaten on 32 and Aadil Ansari on 22. Eight of the State 2 players could not score a double run. For Lumbini, Wazir Ahmed took 5 wickets while Bishal Bikram KC took 3 wickets and Rahul Chaudhary took 2 wickets.
In response, Lumbini made an excellent start. Opener Aakash Tripathi and skipper David Khanal shared 141 runs for the first wicket. Tripathi played 52 balls and scored 57 runs with the help of 9 fours. Similarly, another opener David Khanal played an unbeaten inning of 62 off 89 balls. He was assisted by Prajwal Thapa for 13 runs.
Earlier, Lumbini had defeated Gandaki by 9 wickets in their first match of the tournament and lost by 140 runs to Karnali in the second match.
However, Lumbini continued to win. In the third match, they defeated Sudurpaschim by 2 wickets and in the fourth match, they defeated Bagmati by 3 wickets. Similarly, Lumbini, which reached the final by defeating State 1 by 6 wickets in the fifth match, finally managed to sideline State 2 in the last match.