Nepal yet to hold serious discussion on preventive measures against Omicron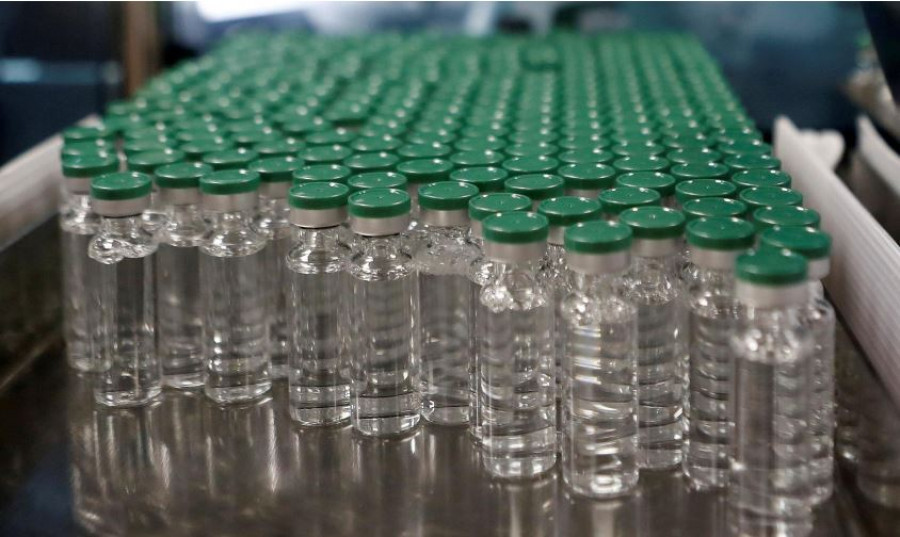 ITAHARI: DEC. 1 – Despite the growing risk of spread of Omicron, the highly contagious variant of SARS-COV-2, that causes COVID-19, officials at the Ministry of Health and Population have not held any serious discussion about the measures required to lessen the risks.
Officials said that no meeting has been convened, as Secretary for Health and Population Dr Roshan Pokhrel and Spokesperson Dr. Krishna Prasad Paudel are in Geneva, Switzerland to take part in the World Health Assembly.
Paudel is also the director at the Epidemiology and Disease Control Division, which is responsible for taking measures to contain the possible spread of infections.
"Don't ask me anything about the risks of the new variant, which is said to be highly contagious, as no discussion has held on this issue," an official at the Ministry of Health and Population, said, asking not to be named, as he is not authorized to speak to the media. "Due to the absence of the secretary and spokesperson, the ministry has not yet called a meeting of the public health experts for discussion."
The World Health Organisation on Friday declared the new coronavirus variant to be "of concern", the same category as the highly transmissible Delta variant.
Secretary Pokhrel and spokesperson Paudel had left for Geneva on Saturday evening.
"I don't know what measures authorities concerned are taking to lessen the risk of the spread of the new virus variant," said Dr. Bhagwan Koirala, chairman of the Nepal Medical Council, the national regulatory body of medical doctors. "I am not invited to any meeting for discussions."
Koirala is among a few experts whom the ministry consults on policy issues.
Before leaving for Geneva on Saturday, spokesperson Paudel had said that the ministry was analyzing the situation. But as of Tuesday, no new decision has been made except that the Ministry of Home Affairs on Sunday decided to restrict entry to people from African countries and directed the Department of Immigration, Tribhuvan International Airport office and administration offices of districts bordering India not to issue visas on arrival to people coming from those countries.
Fighting the virus in an effective manner needs a number of combined efforts—placing the right people in the right place, increasing tests, making testing, tracing and treatment effective and improving health infrastructure, among others.
Dr. Samir Kumar Adhikari, joint spokesperson for the Health Ministry said that whole-genome sequencing will be carried out on the swab samples of infected people returning from abroad and directives have been issued to the authorities concerned to conduct more polymerase chain reaction tests.
Public health experts in Nepal say that consequences will be huge to the country if authorities do not work proactively. They say almost every measure has been by and largely reactive.
"As a lot of things about the virus variant is yet to be known, authorities should start preparations for the worst-case scenario," Dr. Prabhat Adhikari, infectious disease and critical care expert told the Post. "The number of whole-genome sequencing should be increased, swab samples of the fully vaccinated but reinfected people should be collected for sequencing."
Adhikari said that authorities should also increase sample collections for sequencing from the pocket areas, where the infection rate has risen of late.
The World Health Organisation also recommended countries to enhance surveillance and sequencing of cases. The UN health body also recommended implementing effective public health measures to reduce COVID-19 circulation overall, using risk analysis and science-based approaches.
"They should increase some public health and medical capacities to manage an increase in cases," reads the WHO statement issued on Sunday.
"In addition, it is vitally important that inequities in access to COVID-19 vaccines are urgently addressed to ensure that vulnerable groups everywhere, including health workers and older persons, receive their first and second doses, alongside equitable access to treatment and diagnostics."
Experts agreed that whether the new variant will enter Nepal is a matter of when not if.
"Vaccination should be stepped up and authorities should focus on the vulnerable groups, who have not taken any dose yet and are at very much risk," Dr. Biraj Karmacharya, an epidemiologist, who is also the chief of Department of Community Programme at Dhulikhel Hospital, told the Post. "Along with vaccination, authorities should strictly enforce safety measures, including mask-wearing, washing hands, maintaining distances and others."
So far, 8,437,860 people, or 27.8 percent of the total estimated population, have been fully immunized.
Scientists said it could take weeks to understand the severity of Omicron, which was first identified in a country in southern Africa.
Even if a lot of things—severity, fatality are yet to be known about the new variant, authorities should do what can be done—increasing testing and ramping up vaccination among other things, according to Karmacharya.
The widely used PCR tests continue to detect infection, including infection with Omicron, according to the UN health agency.
It said that preliminary evidence suggests there may be an increased risk of reinfection with Omicron in the people who have previously had COVID-19, as compared to other variants of concern.