Travelling to Everest base camp on Dashain-Tihar holiday? Know these seven things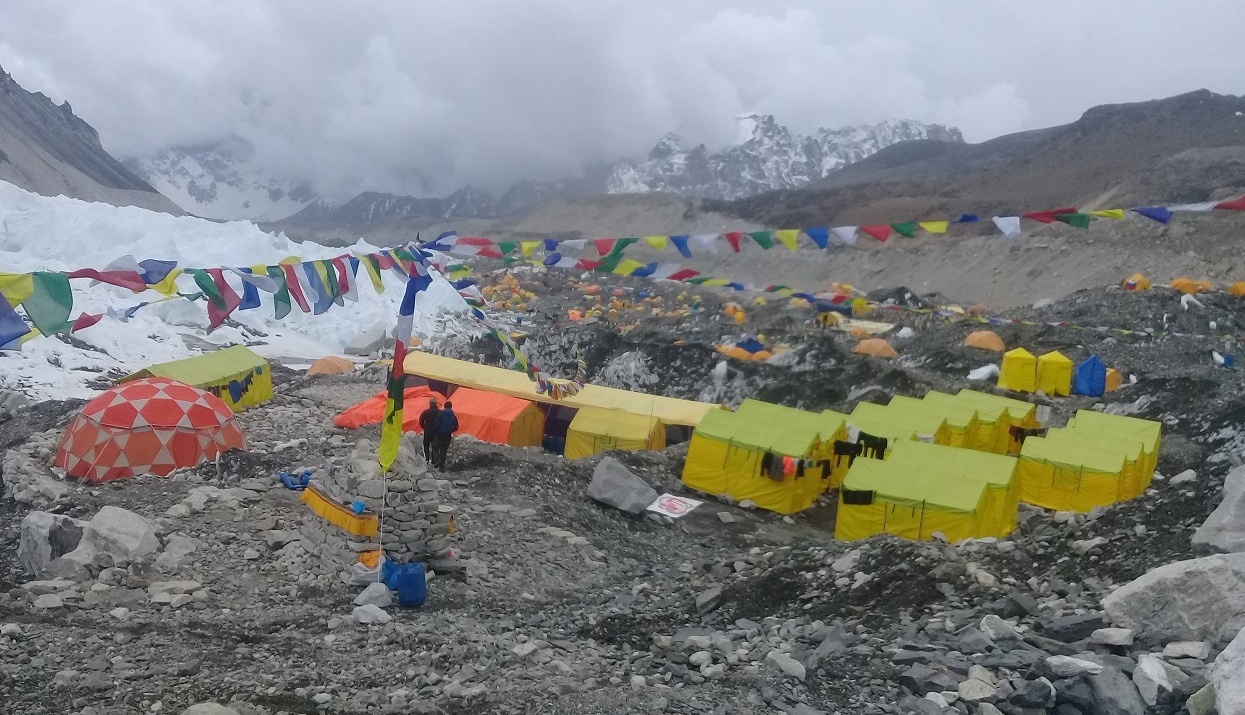 KATHMANDU: OCT. 10 – The season for mountaineering in Nepal is spring. The time to visit the mountain base camp is Autumn. Autumn also includes the holiday season of Nepal's two biggest festivals, Dashain and Tihar.
Those who travel to Everest Base Camp choose Autumn. If you are planning to visit the 5364 meters high Everest base camp this year or in the coming years, it would be good to know the main points of the Everest base camp trip.
1. Why go to Everest base camp?
Climbing Mt. Everest, which costs millions of rupees, is not easy. It takes months to prepare. The journey to the Everest base camp can be completed in half a month. Whether you proudly tell a foreigner or a native that you have reached Mt. Everest or fulfill your dream of touching the world's highest peak, Mt. Everest Base Camp is a special trip. If you want to travel to the mountain base camp, it is better to start from Everest. Everest National Park, which is on the World Heritage List, has other significance as well. The joy of this journey cannot be written here. For this, you have to reach there and experience it.
2. What are the ways to reach the base camp?
Everest Base Camp can be reached in three ways. One, to go secretly by public air travel from Manthali of Kathmandu or Ramechhap. Two, to go through Salleri, the district headquarters of Solukhumbu, by car and on foot from Lukla. It is easy to reach Lukla as it is a one-day drive to Kharikhola. And from a third chartered helicopter. Chartered helicopters are a bit expensive.
3. How long does it take to travel?
If you count the days after reaching Lukla, the average journey is 10 days to reach the base camp and return to Lukla. When the weather is bad and people have a lot of walking problems, the day may get longer. It takes less time for those who are accustomed to walking without a lake and in the mountains.
4. Are there markets from Lukla to the base camp? Should I carry a tent or not?
By the time you reach the base camp from Lukla, you will find various 'tea houses' and 'lodges'. In some places, there are even better hotels than in the city. From the hotel in Namche Bazar to the Hotel Everest View in Syangboche are some examples. Accommodation is available up to Gorakshep Bazar at the foot of Kalapathar. You can reach the base camp by walking slowly from Gorakshep.
In this regard, hotels, lodges and tea houses can be found up to three hours before the base camp of Everest. If you want to experience the 'tent', it is better to carry it, but not necessarily.
5. What are the main places to stay on the way from Lukla to the base camp?
After walking from Lukla, Fakding comes. From Fakding, Namche Bazar and Tyangboche, Dingboche, Lobuche and Gorakkshetra are the main stations. However, there are other stations in the middle and on the side of these stations. You can live there too.
6. Can I go alone?
You can go to the Everest base camp alone. However, in case of health problems, accidents or other problems, it is difficult. Travel and trek guide agencies, official trek, local or travel with friends who know the route is easy and safe.
7. How much does it cost?
Above Lukla, one can travel to the base camp well by spending around four thousand Nepali rupees every day. Adding regular shipping costs and other travel expenses to Lukla, the journey can be completed in a good way with a total of one lakh rupees.
Within a million accidents insurance covers essential trekking equipment and even clothing. Trekking agencies may even offer some discounts.