Afghanistan: Taliban 'bodies' hanged in public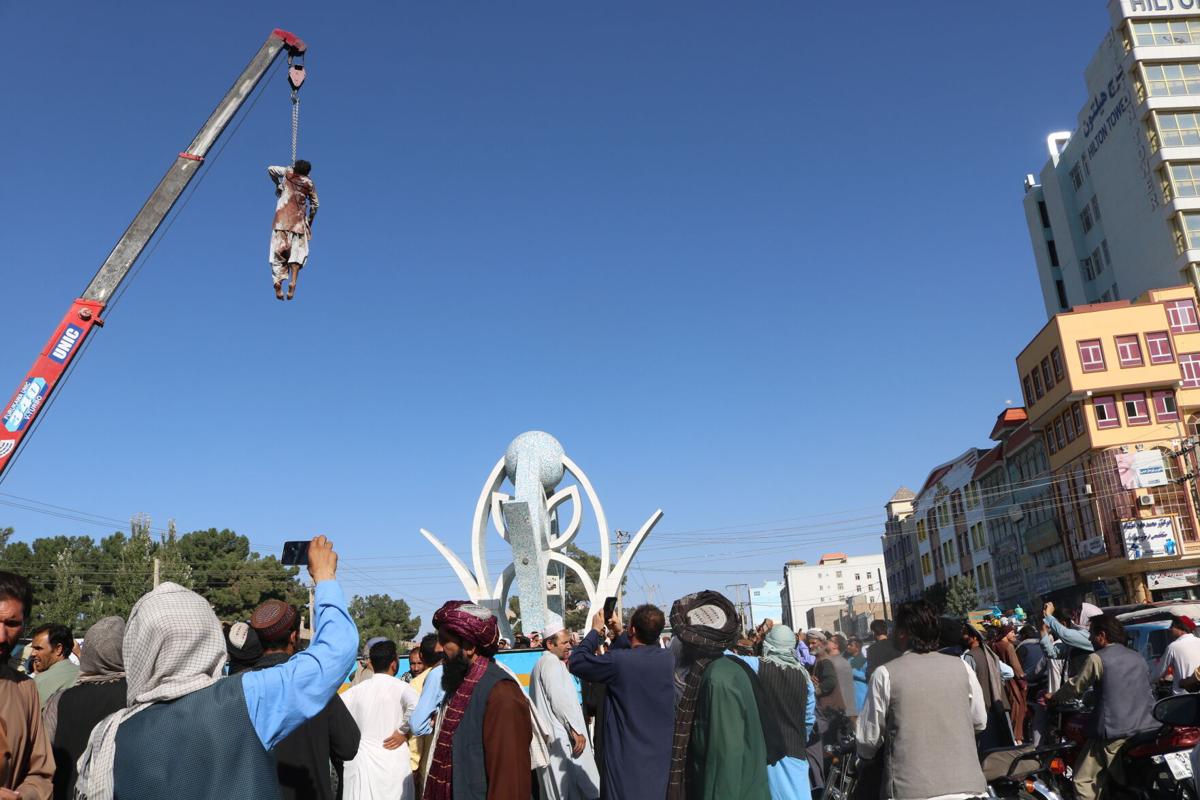 KABUL: SEPT. 26 – The bodies of four suspected kidnappers have been found hanging in a public place by the Taliban in the Afghan city of Herat.
The incident came the day after a notorious Taliban official warned of harsher punishments such as the death penalty and mutilation. A local official said the four, who were accused of abducting a businessman and his son, had died in a clash.
Eyewitnesses told the Associated Press that they saw the body hanging from a crane in the centre of Herat. Wazir Ahmed Siddiqui, who runs the shop there, told the AP that four bodies had been brought to the site and one had been hanged, while the other three had been taken to other parts of the city.
Herat's assistant governor, Maulvi Sher Ahmed Emer, was quoted by local media as saying that the man had been abducted by Taliban fighters and had been shot dead.
"We hung his body in the squares of Herat to warn other kidnappers," he said. The BBC has not been able to independently confirm the man's death. But a gruesome photo posted on social media shows bloodied corpses on the back of a pickup truck and a crane lifting a corpse.
Another video shows a man hanging his body and saying, "This is how kidnappers are punished." Since taking power on August 15, the Taliban have said they will rule softly rather than harshly.
But there have been numerous reports of human rights violations in various parts of the country. Mullah Nooruddin Turabi, the Taliban's prison chief, announced on Thursday that the death penalty and mutilation would be resumed, saying it was "necessary for security."
In an interview with the AP, he said such punishments were unlikely to be carried out in public as they were during the Taliban regime in the 1990s. During its five-year rule, the Taliban repeatedly carried out public executions on stadiums in Kabul and on the grounds of the Eid Gah Mosque.
However, Mullah Nooruddin Turabi ignored the outrage over the death penalty in the past, saying, "No one will tell us what our law should be." He is on the UN sanctions list for past activities. He was previously the head of the Taliban's "moral police."
"Everyone criticized us because of the punishment given in the stadium. But we have not said anything about their laws and punishments, "he said. Last month, Taliban fighters were involved in the killing of nine members of the Hazara minority, according to Amnesty International.
The group's secretary-general said the "brutal" killings were a sign of the Taliban's past and what could happen again under Taliban rule.
Rapid rise of the Taliban
April: US President announces withdrawal of troops from Afghanistan. The process, which is set to begin in May and end in September, is expected to end America's longest war
May: Taliban launches deadly offensive in southern Helmand province. The onslaught began in other provinces as well
June: The Taliban take control of more than 50 of the 370 districts, according to the UN special envoy to Afghanistan. A series of Taliban attacks in the north
July 21: About half of the districts are under Taliban control, according to a senior US general
August 6: Militants capture Jarang, the first provincial capital to fall to the Taliban
August 13: Taliban take control of Kandahar, the second-largest city, and four other provincial capitals
August 14: Taliban capture northern city of Mazar-e-Sharif
August 15: Taliban capture the major eastern city of Jalalabad without a fight
September 7: Taliban announce a new government