More than 300 homes inundated in State 1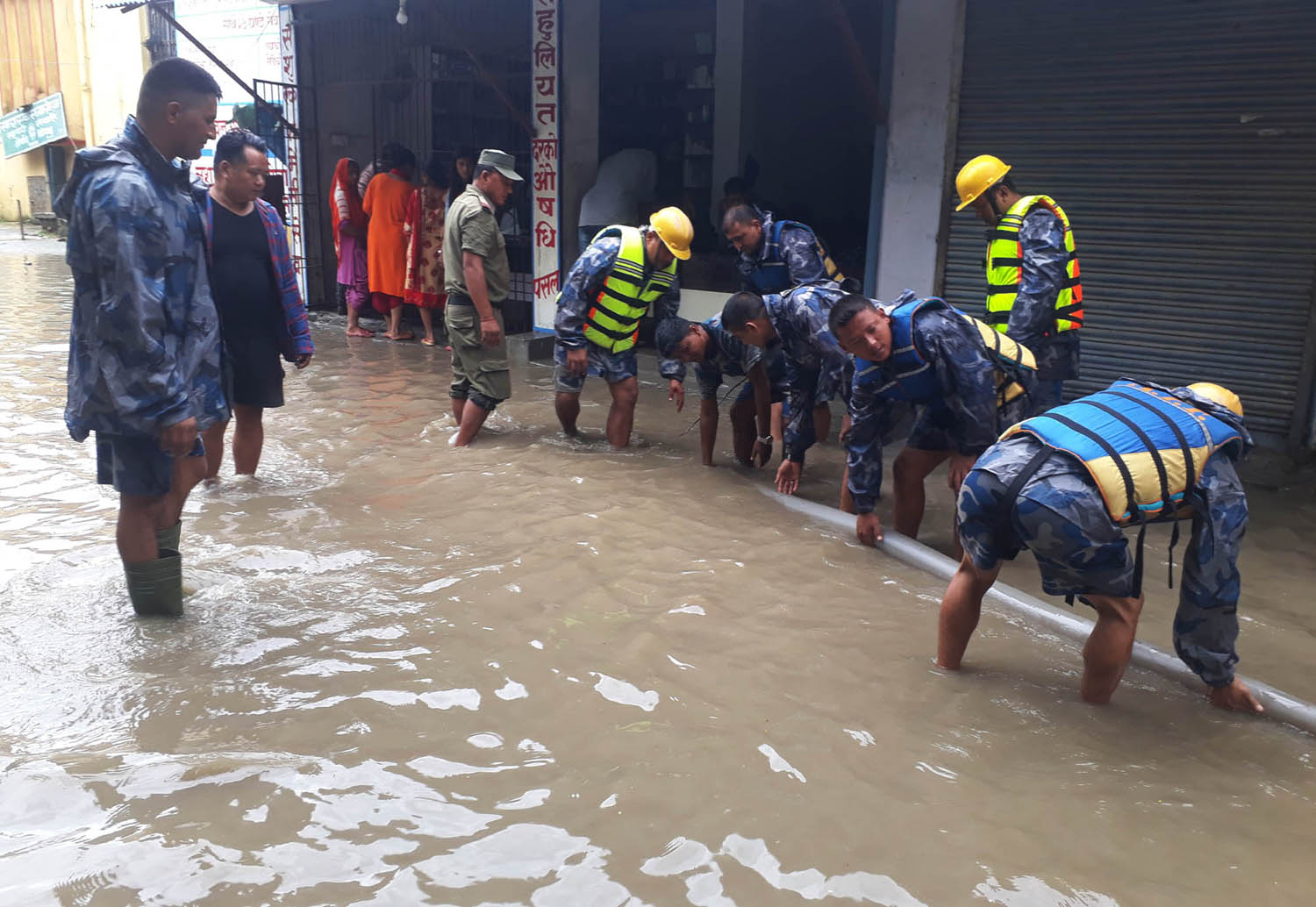 ITAHARI: JULY 4 – Incessant rains in Province 1 have inundated more than 300 homes mainly in two eastern Tarai districts. According to Nepal Police Province No. 1 Office Biratnagar's spokesperson SP Navin Raj Rai, the monsoon-induced inundation is severe in Sunsari district where around 204 homes are recorded to have been inundated.
In Itahari 100 homes are deluged in ward number 10 and 11. In Inaruwa, 54 homes have been inundated and Koshi Rural Municipality has witnessed 40 inundated homes. In Sunsari, the inundation is mainly caused by heavy rainfall, said the Information Section of the provincial police headquarters.
In Morang, 138 homes are inundated by the floodwater from the Kesaliya river. All affected families have been relocated to public buildings, said police. There is no recorded inundation of human settlements in Jhapa. Out of 14 districts of the Province, no records of landslides, inundation, and human casualties are recorded so far, said Spokesperson SP Rai. Rai said inundation in Sunsari district has been mitigated with the ending of rains.
The water level of Nepal's biggest transnational river Saptakoshi has seen 229,470 cusecs of water, says the Control Room at the Koshi Barrage. Koshi Barrage is designed to withstand 954,000 cusecs of water. As of Saturday evening, 29 Sluice gates are open.
Koshi Barrage, which was constructed in 1959 and came into operation in 1962, has 56 sluice gates to control the water along the 1150-meter-long barrage connecting Sunsari and Saptari districts.
However, on 18 August 2008, when the latest great floods came in Koshi, the water volume was just 148,322 cusecs. The erosion at Kusaha had caused that unexpected and seemingly unnatural floods.
According to the Department of Hydrology and Meteorology, Meteorological Forecasting Division Biratnagar, the expected temperature for today measures from 28-30 degrees Celsius with 60 percent rain probability.