Koteshwor-Jadibuti road extension to be completed within a month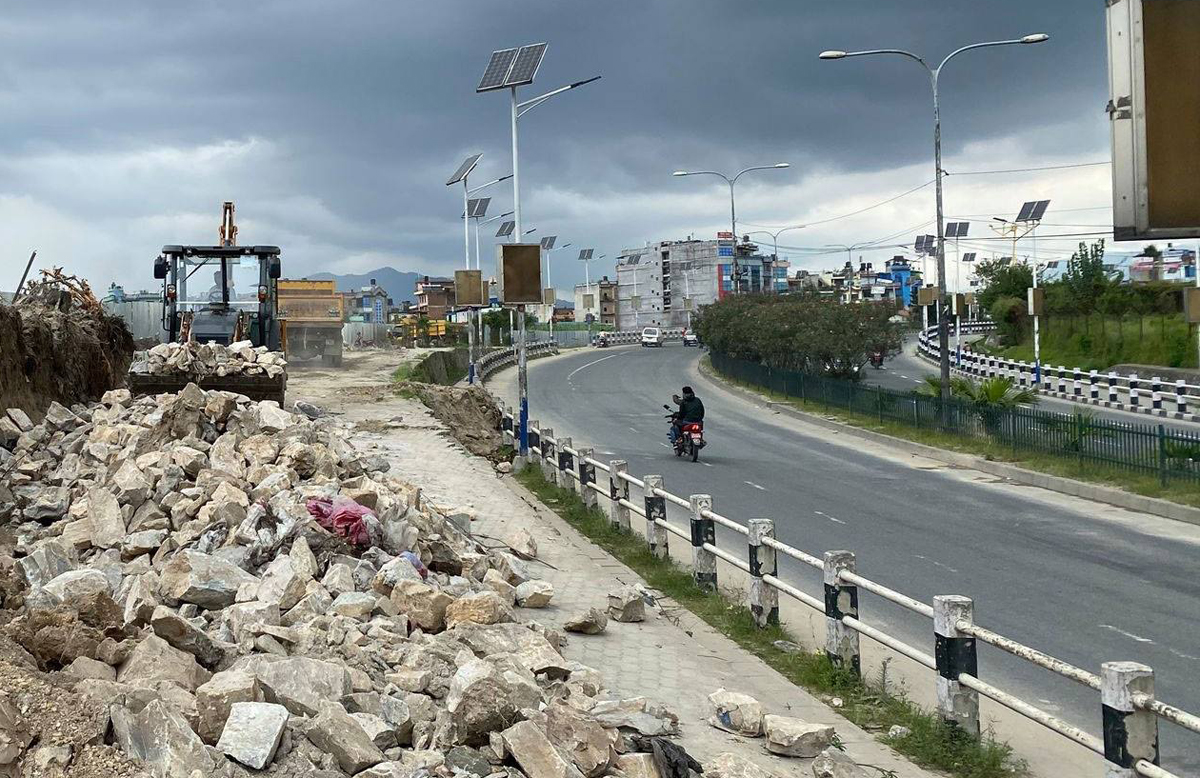 KATHMANDU: MONDAY, APRIL 12, 2021 – The work of widening the road from Koteshwor to Jadibuti, which is more congested in the Kathmandu Valley, has been expedited in a month.
According to the Division Road Office, Kathmandu, construction work is underway by removing all the structures on the right side of the road from Koteshwor to Jadibuti. Division Chief Kuber Nepali said that the work can be completed in a month if the work is done at the same pace. According to him, the construction has been delayed due to a house in the other direction. The landlords have demanded compensation on the basis of consumption area. He said he had no problem working outside the house. He said, "It will be completed in two months after the agreement of the house."
Adding three lanes to this road will reduce traffic congestion. The road office had vacated the construction sites on both sides of the road before starting construction. Most of the road construction across the country has been moved forward by removing the existing infrastructure. Here, the contract was signed after the road structure was removed. The construction site is being vacated by adding one lane on the left (north) and two lanes on the right (south) from Koteshwor towards Jadibuti.
Attention has been paid to the security of the airport. The current bar was demolished only after the outer bar was moved earlier. The road has been opened to widen the road as soon as the airport has agreed to widen the road. Along with the construction of the road, there will be a disability-friendly pedestrian walkway and a green area.
After that, the vehicles coming from the herbs will not stop going to Balkumari via Koteshwor and the vehicles coming from Koteshwor to Pepsicola. Vehicles that do not cross the intersection will not have to stop even if they are stopped for some time. The division has stated that it is planning to extend the road to Manohara Bridge in the coming days.
Passengers and drivers were shocked when the road was jammed for a long time. It used to take hours for a citizen to travel a few kilometers due to traffic jam from Tinkune to Kaushaltar. Although the current road expansion is a short-term solution, the Department of Roads has been saying that the long-term solution is 'flyover'. The Japan International Cooperation Agency (JICA), which has expanded the Tinkune-Suryabinayak road, has studied the construction of a flyover or an underpass at the site. – RSS