PM inspects Nagdhunga-Naubise tunnel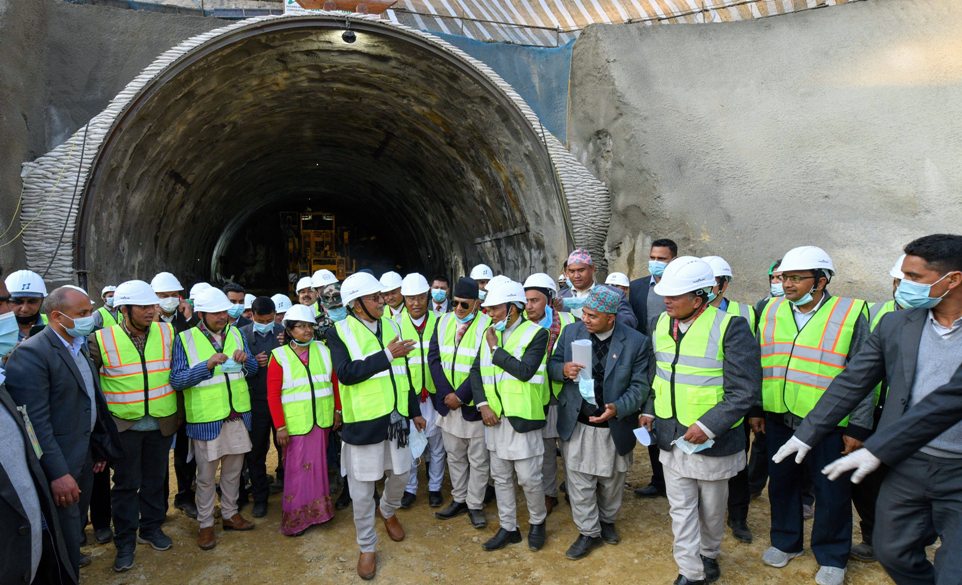 Kathmandu. The schedule of Prime Minister KP Sharma Oli, who attends the Indradaha Tourism Festival on Falgun 9 every year and returns there with enough time, has changed somewhat this year. The reason was the inspection of the eastern entrance of the Nagdhunga Naubise tunnel starting at the foot of the south side of Indradaha.
Tunnels are also among the priorities of Prime Minister Oli, who has shown the way for infrastructure development up to railways and ships to take the country towards prosperity. The road that used to cross the steep slopes and innumerable detours from Dadankada is now crossing the tunnel through Nimesh. Stating that the country has now entered the tunnel era, Prime Minister Oli was joking to the people at the top of Daha chowk hill saying, "Now the day is coming to reach Naubise from Thankot."
After the Indradaha program, the project officials informed the Prime Minister about the characteristics of the tunnel, the ongoing work, the challenges and the impact of the cove. According to him, the two-lane tunnel with a total length of 2.68 km is being constructed for the first time in Nepal with a flyover and three bridges and two underpasses. It will have water evacuation, emergency rescue and 24-hour light-oxygen balance system and CCTV inside the tunnel.
After hearing the preliminary details from the officials, the Prime Minister thanked the workers and encouraged them to do their job well. After the Prime Minister of the country looked at him and said thank you, the enthusiastic workers also took a group photo with the Prime Minister.
The contract, which started in November 2019, will be completed within 42 months. At present, 90 meters has been dug from the western side of the tunnel in Dhunibesi Municipality and 27 meters from the eastern entrance point of Chandragiri Municipality in the east. The construction officials have informed that the construction of the tunnel will accelerate after the part of the hard soil is completed and the part of the hard rock is started.